Active News September – London Marathon edition
September newsletter – London Marathon edition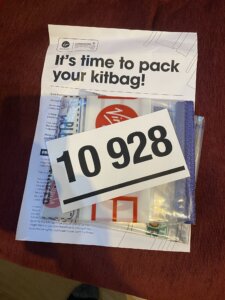 Well it is nearly here. After over a year of waiting, the streets of London will once again be filled with runners of all ages and abilities, myself included, to grab their slice of glory from participating with the world's best runners in one of the biggest running events in the world. Pretty impressive and I am getting serious butterflies the closer it gets! This will be my last road marathon and I can't think of a better one to retire on.
If you are getting pre race nerves like me, check out my article further down!
I will be posting on Instagram and Facebook on the day, using the hashtags #activepod and #marathonrunningtim. You can track me and any other runners you are supporting by downloading the official London marathon app onto your smartphone.
Finally just a reminder that I am raising funds for my charity Forgotten Feet which provides foot care and footwear for the homeless community. You can check out my Virgin Money Giving page here.
https://uk.virginmoneygiving.com/TimVeyseySmith
Thank you for your support and generosity.
This month's news:-
• Physio starting
• Exercise of the month
• Let's talk about – tight calf muscles
• Pre marathon nerves?
Physio starting.
I am very pleased to announce that Active will be offering Physiotherapy services as well as Podiatry from the 4th of October. Sarah Campbell from Physio Active will be joining us as part of the Active team and will be offering physiotherapy for all musculoskeletal injuries. Sarah is an experienced runner, having run the Comrades marathon in South Africa 6 times, so she is the real deal!
You can book an appointment with Sarah for the time being by contacting her direct on 07752586033, or by dropping her an email at sarah@physio-active.co.uk.
I am hoping to offer direct bookings with Sarah via our website in the near future once she has settled in.
Exercise of the month – Single leg balance.
Can you stand on one leg? It's not as easy as you think!
Single leg stability is important to improve coordination and reduce stress on the lower limb during weight bearing activities. Foot and ankle injuries can often disrupt balance for a long time afterwards.
Try this simple exercise.
Stand on one leg for 30 seconds. If that is easy, try doing the same exercise with your eyes closed.
Do this exercise little and often and your balance will improve over time. You can increase the difficulty by standing on a pillow or balance cushion but get good at the basics first!
Let's talk about – tight calf muscles.
Tight calf muscles are very common in runners and active people. The calf muscles, which run down the back of the leg into the Achilles tendon are very active in the landing and push off phases of gait and they can become tight due to fatigue or lack of conditioning. Tightness in the calf can limit forward movement, causing compensatory movements such as increased pronation of the foot, early heel lift and knee/hip flexion. These increased loads can increase the risk of overuse injuries in these areas.
Stretching the calves is important to increase flexibility but strengthening the calves to improve muscular endurance and reduce tightness after exercise is more important in the long term.
Here are links to my YouTube playlist on calf stretching and strengthening exercises.
https://youtube.com/playlist?list=PLv9V5RTKsYlhYFUWdXmsAQ5qR9cI9Q9jw
Pre marathon nerves?
Finally, back to the marathon, and pre race nerves are common in the days leading up to the big event. I certainly have them, and have written a blog with my top 3 tips to reduce pre marathon stress. You can read it here:
https://activepodiatry.co.uk/sports-podiatry-information/keep-calm-and-carry-on-my-3-top-tips-to-avoid-pre-marathon-stress/
That's all for now. Just to remind you that we are open for Podiatry appointments Monday to Thursday, and Physiotherapy Tuesdays and Thursdays.
Whether you are running the London Marathon, turning up on the day to support, or enjoying the event from the comfort of your sofa, or ignoring it completely, have a great day this Sunday!
Tim