Active News August
Hope you all had an enjoyable Bank Holiday weekend – at least it didn't rain! August has been a quieter month at Active with more people away on holiday etc, so it gave me the opportunity to take a week's break in the Swiss Alps, enjoying the stunning scenery around Lauterbrunnen in the Jungfrau region of Switzerland, and revisiting a half marathon I first did 10 years ago, this time with my oldest son showing his Dad how it should be done!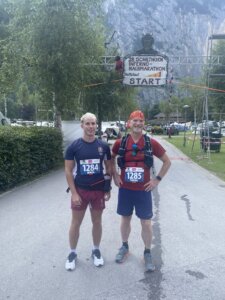 The event involved over 2000 metres of ascent up a minor Alp called the Schilthorn, on top of which is a panoramic restaurant called the Piz Gloria, made famous by its role in On Her Majesty's Secret Service as Blofeld's lair, for the benefit of any Bond fans reading this. Although it was properly tough and far too steep to do much running, the views were worth it and the beer at the top tasted fantastic!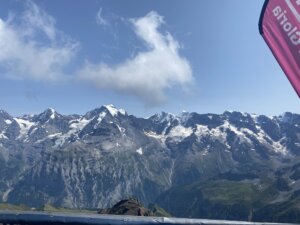 Despite the extra paperwork and testing required, I found travelling in Europe to be fairly straightforward. It just requires a little more planning and organisation. If you are thinking of travelling but concerned about the extra hassle you might encounter, I would say give it a go. Once you have been through the process once it is easy to repeat it again for future trips.
In this issue:-
• More therapy services at Active
• Let's talk about - Corns and calluses
• Back to school/work
More therapy services at Active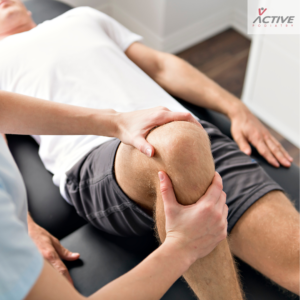 From September, I will be looking to add more therapy services at Active and hopefully have an exciting announcement to make soon. We are still dotting the 'I's and crossing the 't's but hope to be able to tell you all about it in the next newsletter. If you know of any therapists who are interested in working with us then do let me know.
Let's talk about – Corns and Calluses
Calluses are a normal thickening of the skin of the foot in response to generalised pressure on the skin. If they are not uncomfortable they are best left alone as they do offer some protection. Gentle filing of any rough areas and regular application of a foot moisturising cream can help to keep the skin smooth. If uncomfortable or painful you can book a routine appointment with us to have them removed.
Corns are a very localised thickening of the skin on the foot, often on the plantar, or bottom, surface of the foot. They form a small hard lump like a stone which digs into the soft tissues when pressure is applied, often causing significant pain and limiting weight bearing activity. They can be caused by tight shoes, bone spurs under the skin, or high peak pressure in an area of the foot due to altered biomechanics in walking. They usually cannot be filed away as they are beneath the skin. Fortunately they can be painlessly removed by us during a routine foot care appointment.
If they are persistent, corns can often be prevented from coming back by changing footwear or by wearing a specialised orthotic insole inside the shoe designed to offload the high pressure area.
If you are suffering from painful corns, calluses or any other general foot complaint, you are welcome to book a routine foot care MOT to get your feet feeling fantastic again!
Back to School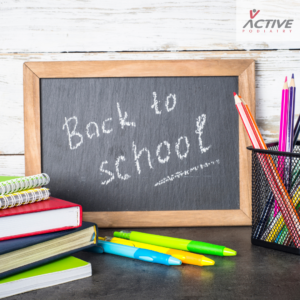 September is traditionally a 'back to school' time for parents where your active kids will be hitting the sports fields and football pitches after the long Summer break and may be finding out their snazzy sports shoes don't fit properly any more, or they are getting a return of aches and pains which they had last season.
Many of us may be facing a change in working environments, with a return to part or full-time working on-site at your company or firm. Perhaps you are having to get your feet back into unfamiliar working office shoes or protective footwear which are not always ideal for your feet. Maybe you are facing a long commute in those uncomfortable shoes and are starting to get a return of some old niggles, maybe up into your knees hips and back.
We are fully open for face-to-face consultations and can provide appointments to fit around your working life, so if you've been holding off from getting that niggle or annoying foot problem sorted out, why not book a consultation here  before life gets too hectic.
If you're going to be home-based, and can't travel, remember that we can also continue to help with virtual consultations, and you can book a virtual appointment here 
Whether you've picked up a 'Joe Wicks' injury over the Summer, need some help with your sporty kids' shoes, are struggling with getting your feet back into work shoes, or if you just need help and advice to get active again after a long period of inactivity, now is a good time to get it sorted! If all is well, perhaps you know of someone else amongst friends and family who may benefit.
In case it's been a while since you have seen us at Active, we provide a range of services for foot, ankle and lower limb problems, including but not limited to, sports injury rehabilitation, laser and shockwave therapy, gait analysis, nail surgery and routine foot care. We cater for and welcome all ages, old and young and I would be delighted to see you at my clinic soon.
Take care,
Tim