Reasons to get up at 5 O'clock on a Sunday morning. My London Marathon 2021 blog
Reasons to get up at 5 in the morning on a Sunday. Can't sleep, just got in from clubbing, cows need milking, catching an early flight to jet off somewhere exotic, running the London Marathon. Yep, it's the latter of these in my case!
The 5am alarm on Sunday the 3rd of October, 2021 was the start of a very long day and one of my best days ever. There is nothing like the London Marathon, and if you ever get to do it, you will understand why.
Here is my first tip. Get everything ready for the day. Do it several times the week before until you are sure you have got everything, and even then your first thought on waking up will still be "Have I got everything?"
Here is my second tip. Expect South Eastern trains to let you down, because they will in some way. Have a plan B, and a Plan C, in fact all the way up to Z if you want. My plan A was to get a much earlier train than I needed in case it was delayed or cancelled. Smart move as our train managed to make it precisely one stop before it gave up and turfed us all out at Tonbridge, where we joined the serried and highly seasoned bunch of runners from Tonbridge AC to await the next one up the line, a mere 15 minutes delay and time for a quick visit to the loo, the first of many that day. With each stop, the running community's quest for global domination continued as the train became increasingly packed with runners, utterly failing to observe social distancing guidelines and trying to not let out the inevitable morning cough, fart, or both. Failed on at least one of those counts I reckon, and I will leave it to your imagination to guess which.
I am sure Blackheath is very nice in the Summer sun, but on Marathon day it was a cold windswept expanse of grass, ringed by fencing, with runners inside and spectators outside. The cheery commentator on the big TV screen provided cold comfort as we shivered in the inevitable half hour queue for the loos.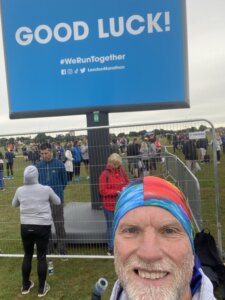 Tip number Three. Go before you get there, but even then you will still need to go at least once.
Finally, after disgorging the local charity shops collection of jumpers, hoodies and jackets purchased just for the occasion of keeping warm while we waited into the grateful arms of homeless charities, (what a great idea) we gathered in our pens to await the starter's orders.
In a mainly unsuccessful attempt to observe social distancing, we were sent off in waves this time. Whilst arguably making no difference to the likelihood or not of catching the plague off other runners, it did have the benefit of getting us off in short order and across the start line with minimal delay.
The first part of the race is a nice introduction to the Marathon experience, taking you through the busy streets of East London, with bands playing, the pubs open and a chance to catch up your first fancy dress runner – if you can, some of these guys and gals are fast! – and settle into the day's stride. At this stage I was already starting to think about food as breakfast seemed a long time ago, but decided to wait until the first hour had passed before loading up the first sugar rush.
Greenwich and the Cutty Sark came and went, and then what felt like a long drag through Southwark and Bermondsey, with the buildings of Canary Wharf sliding slowly by on the North Bank to my right, a reminder and preview of what was to come, the infamous Isle of Dogs!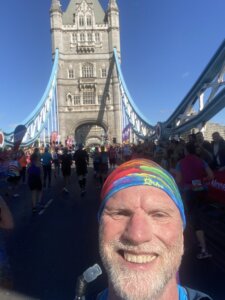 Crossing Tower Bridge is an iconic moment in the Marathon, as it is close to the Halfway point and it is goodbye to South and East London, and hello to the North Bank, Isle of Dogs, the Embankment and home/beer!
Many runners, myself included, had their phones out to take selfies celebrating the historic moment. A right turn at the other side and we were swallowed up by the mainly featureless landscape of the Isle of Dogs, seeing our first runners coming the other way. A time of mixed emotions as it gave a preview of the final stretch to come, along with a sinking feeling that I had to get around the Isle of Dogs first!
Actually, I am being a bit unfair to the place here. The Isle of Dogs is not without interest, being a mixture of urban housing, tall skyscrapers, bridges and interesting waterways. It is just that it comes at a time when the race is beginning to feel long, with an awareness of much still to do. Many runners speak about hitting the wall at this point around mile 18, but I decided that was not going to happen to me, and so it didn't; that came later! It's really a head game at this point. You can easily talk yourself into a bad place and lose morale. The trick is to make little deals with yourself, promising small rewards like a walk break if you run to this point for example. If the training has been done well, your legs are good for it.
Tip number Four. Trust in your training, unless you haven't bothered, in which case start worrying now.
My morale was boosted by spotting, or rather being spotted as I was deep in my head space, by Jon, Gracie Hudson and sister Gill, representing the Grubb family, who were waiting for Wife/Mummy/Daughter/My niece Karen to come along. Little did I know it but I had passed her on Tower Bridge with both of us oblivious to it, but she was snapping at my heels so after quick hugs and a photo pose it was time to crack on with it.
So far so good, and I was finally released from the bonds of the glittering Isle and along the Embankment, but a train was coming, a train of pain and it was waiting for me at Mile 20.
'The train now standing at Mile 20 consists of several compartments, and will be calling at joint pain, muscle stiffness, old aches and pains you thought were long gone coming back, chafing, nausea from all the bloody gels, and your ancient survival brain screaming at you to stop and start walking. Passengers are advised to move slowly to the rear of the train if any or all of these things are bothering you, or better still, leave the train at the next available stop. Alternatively, grab hold of something, hold on, and we'll get you there somehow.'
One of the British elite athletes running this year's Marathon described the last 6 miles as the 'march of death'. Somewhat melodramatic but not far from the truth. At this stage my legs really started to feel heavy and the legs felt like red hot pokers at every step. Ever wondered why you see so many runners walking at this point? The fact is, if you walk it all stops hurting, and if you start running it all starts to hurt again. The problem is, walking the last 6 miles is going to take forever and there is that beer waiting, plus it's the London marathon, a running event not a walking event. So I decide to accept that every step was going to be painful and I would just have to put up with it in order to get the thing done as quickly as possible.
Each mile marker brought me tantalisingly closer, until Big Ben and Westminster Bridge were in sight and I could sense the final push was coming. At this point the skies darkened and the heavens opened. This lasted about a mile and actually perked me up a bit just when I needed it. The rain was gone as quickly as it started and then I was round Parliament Square and heading along Birdcage Walk, the crowd noise reaching a crescendo and the sun reflecting off the new puddles, all making for an epic finish as I ran past Buckingham Palace, right turn down the Mall and the end was in sight. Many runners were walking at this point but the TV cameras perched on the finish gate were watching and I had my public to think of so I kept running , head up, tried to smile without showing the gaps in my teeth, and crossed the line. Then, with a beep from the pressure pad on the floor mat that talked to the timing chip on my number, it was over. 2 years, umpteen miles of training, and 4 hours 41 minutes give or take a few seconds of more or less constant running that morning since 10:30, and my final London Marathon was in the bag!
And yes, I do really mean it this time!
Tip number Five. Never believe a Marathon runner when they say it's their last one.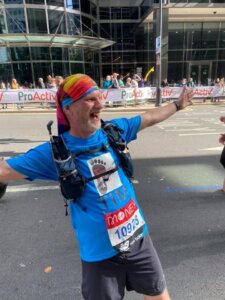 Epilogue
Oscar winning speech thanks.
A solid training plan from James Dunne at Kinetic Revolution that kept me uninjured and made the day work.
My lovely running friends at Horsmonden Runners who ran with me, encouraged me, kept the banter going and kept me real. – Did I tell you I'm NOT running a marathon!
The Grubb family Jon, Gracie, Hudson and my sister Gill who provided support and encouragement along the route even though it wasn't me they turned out to support!
Karen Grubb for being my virtual training buddy and sharing the adventure on the day. Congratulations on an epic run and at least your foot was ok even if nothing else was!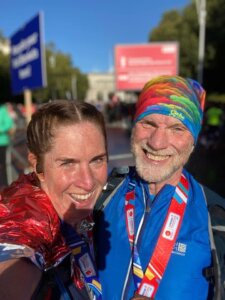 Forgotten Feet, who motivated me to keep going and for providing an amazing running shirt. A pleasure to run for you guys.
All the kind people who donated, too many to mention. Thank you for your generosity.
My son Reuben for turning up and surprising me at the after party on the day, and for just about everyone else it seems for keeping it a secret from me!
And last but not least to my wife Paula who said to me one day 2 years ago after watching the Marathon that if I didn't put in for the ballot I wouldn't get it, and then had to put up with being a running widow when she turned out to be right! (And yes I know it was just a Marathon!)