Active Podiatry News January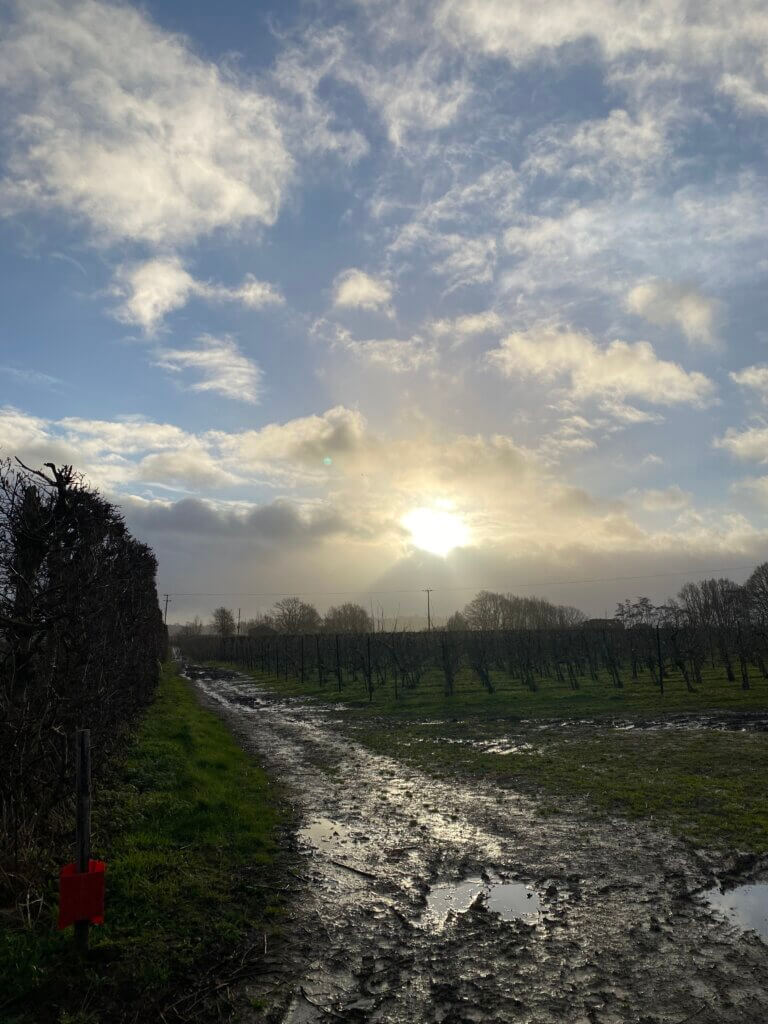 We are now in the heart of Winter, and although the trails and footpaths are slowly turning into quagmires of wet mud, I have noticed lots of people venturing out in all weathers for runs and walks at the weekends. This is unusual for the time of year, and it appears that the current Lockdown is motivating more and more people to leave their centrally heated homes and venture out for some exercise. This can only be a good thing and let us hope that it continues once the pandemic is over, to the benefit of the nation's health!
Quite a short news month, as I have been preoccupied with post-Christmas admin, planning the coming year, and adapting our procedures for the new and up to date health and safety guidelines. However, I still have some exciting news to share which I hope you will find interesting and beneficial.
Contents
My Run 31 Challenge for Kent Air Ambulance
Is it OK to run every day?
Laser Therapy is here
Keeping COVID safe
My Run 31 Challenge for Kent Air Ambulance
This month I completed the Run 31 Challenge to raise funds for the Kent, Surrey and Sussex Air Ambulance. Throughout January I ran every single day, completing a total of 100 miles, and raised a total of £341 for the charity. My legs are tired but I am chuffed to bits to have completed it. Last year, the air ambulance swooped into our village and rescued a friend of ours who was seriously ill, so I have a personal interest in supporting the charity. As a Paramedic in a former life, I also witnessed first-hand on many occasions the fantastic level of care and life saving skills they can quickly deploy every day, making the difference between life and death. You may not know that the Air Ambulance depends entirely on charitable donations to stay aloft, similar to the Lifeboat service, and so it is a worthy cause that may benefit you or someone close to you some day.
Although the challenge completed at the end of January, I have left my donations page open for a few more days. If you feel inclined to contribute, the Air Ambulance and my tired legs will thank you! Here is the link for donations.
https://www.facebook.com/donate/157405975743127/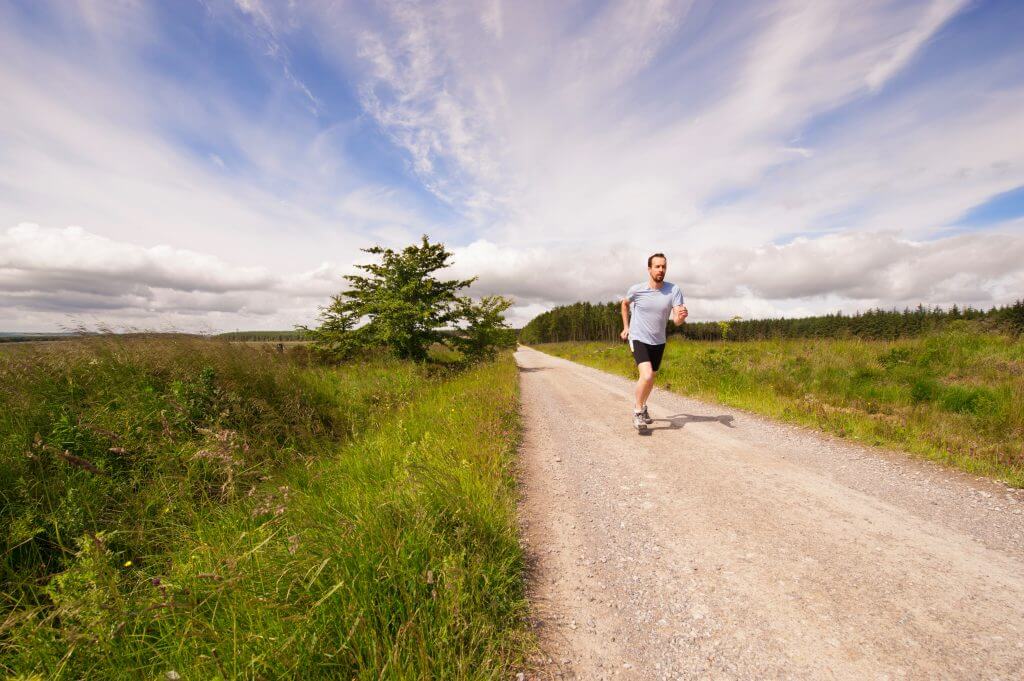 Is it OK to run every day?
Funnily enough, before I completed the Run 31 challenge, this is a question I got asked quite often. Well, I am still here and uninjured, so apparently it is! Here are my tips to stay injury free if you are considering a similar challenge.
Make sure you do not increase your weekly mileage too quickly. 'Too much too soon is a big cause of running injury. I managed by reducing the distance of my regular runs, and slotting in short runs of a mile or so on some days.
Keep all of the runs steady. Running every day leaves less time for recovery, and intensive training sessions without the opportunity for recovery may risk an overuse injury. If you must train hard on a running day, make sure the run next day is a short, slow recovery run.
Listen to your body. On the days when I felt especially tired, I went for a run/walk, choosing an easy course for that day. Pushing yourself through fatigue can only increase your risk of illness and injury.
Enjoy it! Maybe it is in part due to the current Lockdown, but I really enjoyed getting out every day, trying new routes, and feeling no pressure to push hard or achieve a specific distance goal. It taught me that I can run whenever I want within reason, and I am looking forward to getting out for more regular runs in the future.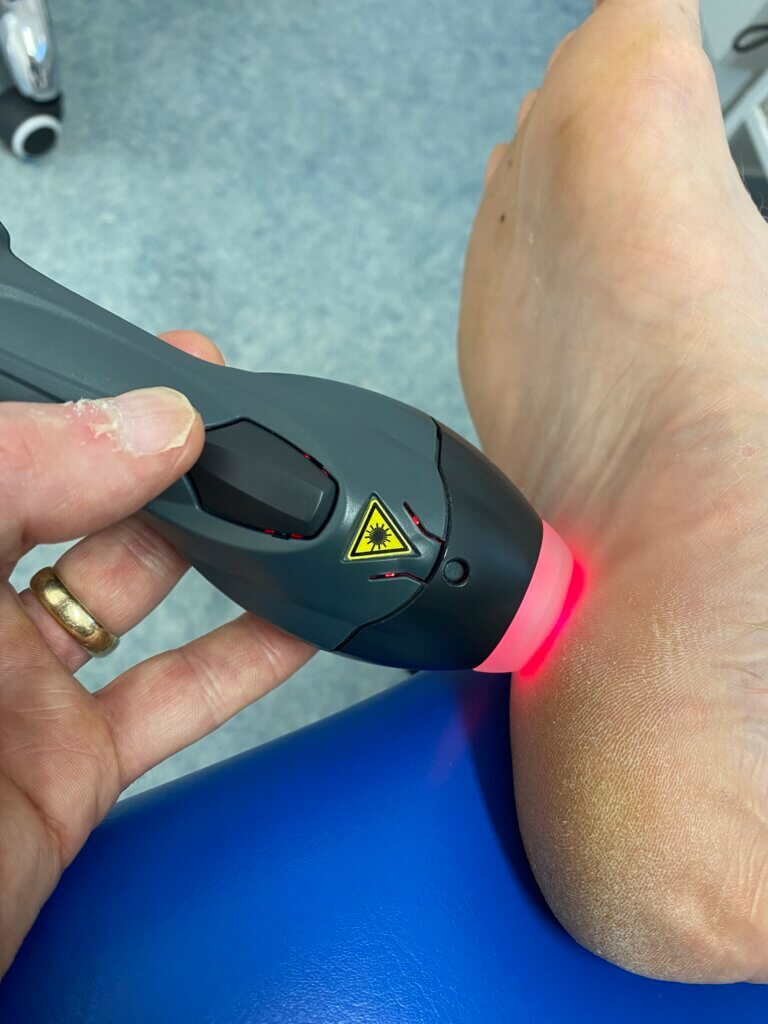 Laser therapy is here.
I am very pleased to bring laser therapy to Active Podiatry from this month, having had a unit on trial since before Christmas. Laser therapy reduces inflammation, accelerates healing, and relieves pain, often immediately on application. It is suitable for all kinds of conditions, including muscle strains, achilles tendinitis, shin splints, plantar fasciitis and arthritic complaints. The best thing is that it is entirely painless, with few side effects. I have seen some impressive results in the past few weeks and am really excited to be able to offer this new modern treatment to help speed my patients' recovery and back to activity faster. Drop me an email or give me a call if this is something that you feel might be beneficial for you or someone you know.
Keeping COVID safe
Although I know we are all getting heartily sick of hearing about the Pandemic, I just wanted to remind and reassure you that we are continuing to work hard on our Covid safety at Active, having introduced extra measures recently to try and keep all of us safe. Please bear with us if we have to make changes at short notice or if we need to contact you in regard to your appointment. If you are nervous about venturing out and feel the need to postpone your appointment, even at short notice, we understand and can offer an excellent Telehealth consultation service to help with your recovery while you are isolating.
Vaccines are rolling out now across the county, and there is light at the end of the tunnel, even if it seems a way off.
I wish you all continued health and safety in the weeks ahead, and look forward to a return to more normal times in the near future.
Take care and stay active.