How we are keeping you safe during the Pandemic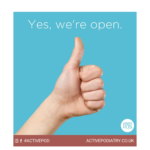 Now all Corona virus restrictions have been removed, we are still being advised as an essential medical practice to continue with mask wearing for the time being. This in order to protect the clinically vulnerable and reduce the risk of infection during the current wave due to the Delta variant. Please continue to wear a face mask at your appointment and check our website regularly for updates. All our services will continue as normal and you are welcome to book an appointment in the usual way if you have any issues with foot or ankle pain.
We are confident that the hygiene measures we have in place are of the highest possible standard to help keep you safe during the current wave, and we look forward to helping you stay active during this pandemic. If you are unable or unwilling to travel, we can offer an excellent video telehealth consultation service which we have refined over the past few months. Give us a call to find out more.
If you have any questions or concerns, do call us on 01580 211133, call/text on 07970097883, or email us at info@activepodiatry.co.uk. Finally please follow Active Podiatry on Instagram @activepod and Facebook/Active Podiatry Clinics for up to date news.
Thank you for your patience and support.
All the best and stay safe.